Plumbing Contractors' Marketing Challenges
There are three major factors affecting customer generation for plumbing contractors right now and if you don't respond to these changes, your competitors will rapidly wipe out your customer base.  The three factors that have changed dramatically in the last 15 months are the use of video in lead generation, Google's sophisticated PPC targeting and mobile search and if you look around, over 95% of all plumbers have done nothing different as the marketplace rapidly changes.
Video Marketing and Customer Conversions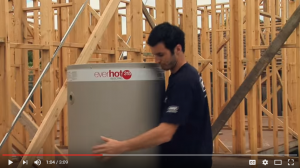 Video marketing is absolutely dominating lead generation and sales and it's the easiest and cheapest way to double your sales appointments within just a few weeks.  Whether you want to sell emergency services or exclusively hot water heaters or maybe you just want to do commercial plumbing, video will double or even triple your leads within 60 days when it's produced and targeted correctly.   When you can put your sales videos on the first page of Google for the types of business you want and in the areas you want to service, leads increase dramatically.
Many of you probably know that Google is the number one search engine in the world and it processes over 40,000 search queries every second which translates to over 3.5 billion searches per day.  Now you may not know that Google also owns YouTube and since the purchase, YouTube has become the #2 search engine in the world.  And because of their ownership, Google treats videos even more favorably than they ever have before.
The Day of Websites Is Over
If you were to build a website and do everything correctly by writing the right kind of copy and you continually grow your content and work on it every day for six months, you might get to page one organically for a few search terms that might generate some web traffic and leads as long as you can find an expert who has mastered search engine optimization and keyword research.   And after all that work, those results won't stick because Google is changing its rankings every day with their new artificial intelligence algorithm called Rank Brain. They actually update search results every day…except they do not screw around with YouTube rankings hardly at all.   Once you get your YouTube video on page one of Google for a search term, they trust it because they own the place it came from!
Targeted Landing Pages
Everything now is video, mobile and landing pages for the particular services that you are advertising and marketing for.
If you want to market for hot water heaters and you send your traffic to your home page where you don't have the content talking about hot water heaters, you've wasted your effort and money.
Plus, you've lost a customer. If you are running ads for hot water heaters, the headline on the page you're sending your customer to better have a headline that says something about "hot water heaters" or they're gone within seconds. The reason I'm telling you this is because we have designed a new process that can get you to page one of Google with the video messages that you want; usually within 24 hours and everyone is tailored to the service you are selling!
Why would you ever spend money again on SEO for your website when we can get hundreds of videos for a myriad of search terms in any number of locations that you want to do business in?
Normally, our clients usually want to have new customers calling them from all the cities, towns and suburbs within a 40 to 50 mile radius.
Where you get customers calling you from is entirely under your control.
Google Paid Targeting
The second part of our marketing system is Google's PPC or Adwords.   The new tracking tools and targeting methods can actually target the zip codes you want customers from while actually using only the search terms that generate jobs.
The day of throwing advertising up on the web and hoping someone calls you is over.
Here's just one tool that can actually track your customers' behavior once they land on your page and Crazy Egg even tells us what they did on your web page for a particular search term. Thus preventing you wasting any money any more hoping something works.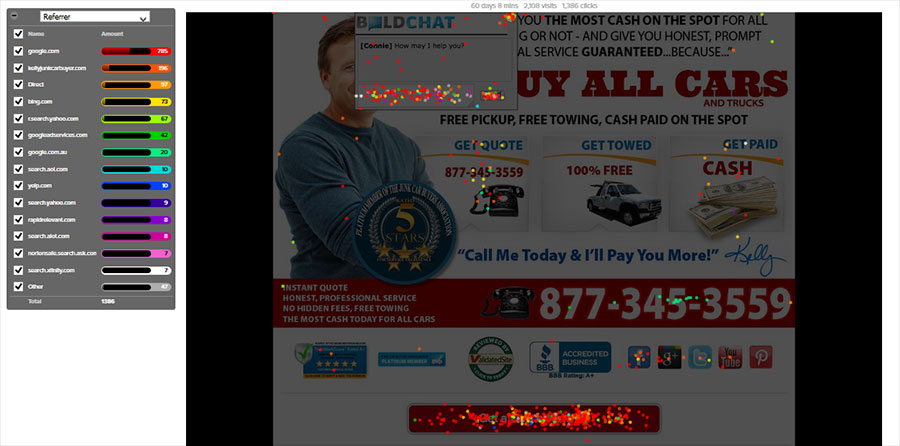 If you said that you only want to sell emergency services for a group of zip codes or cities and towns between the hours of 8PM until 6AM, you can do it with pinpoint accuracy and you won't be wasting money throwing up "plumber ads" hoping someone calls you. it is all about targeting what terms for what kind of work while spending far less money to get those particular customers.
Mobile Marketing
More than 50% of all searches on Google are from mobile devices. Plumbers' mobile ads and pages have to give your customer the information in just a very few words in order for them to make a decision. Most times you are trying to get across a message with tons of words because you just took your website and gave the mobile user the same content but you have forgotten that they are seeing it on a four inch screen. You can no longer just convert your site to "mobile friendly" and expect your potential customer to read all those small words describing things they don't care about. The need a plumber and most times they are going to call the one that is easiest for them to talk to. So, you are also going to need "click to call". We have a proprietary system that will build custom landing pages that will be just for a potential customer looking for a plumber from their cell phone or tablet and it will deliver a very precise message designed to generate a click to call.
Do you really think someone is going to read all those words on their cell phone?  Plus it even cut off their brand name!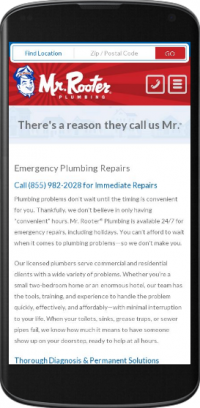 If you finally want to see your plumbing business dominating 90% of the searches for your company, increase your jobs by at least 40% while owning the only marketing process that starts making you money within 7 days of implementation then please contact us by phone or email.  Costigan Consulting will only take one plumber per market.  If you want to own a 40 to 50 miles radius, then we will not speak to another plumber anywhere within your market exclusivity.